Educator, Historian, Author, Publisher
Jacqueline James
Ms. James is writing a series of 25 books, entitled "Friends of Martin Luther King, Jr."
This series is being written to teach students about the people who worked with and were friends of Dr. Martin Luther King. The first four books in the series are now available.
The books supplement and enhance the school curricula. Ms. James also provides study guides and enrichment activities that correlate with each book.
Many of the activities included are aligned with the Common Core Standards.
Ms James is available for:
Book Talks
Book Signings
Workshops
PTA Meetings

School Career Days 

Faculty/Staff Meetings
More about Jacqueline James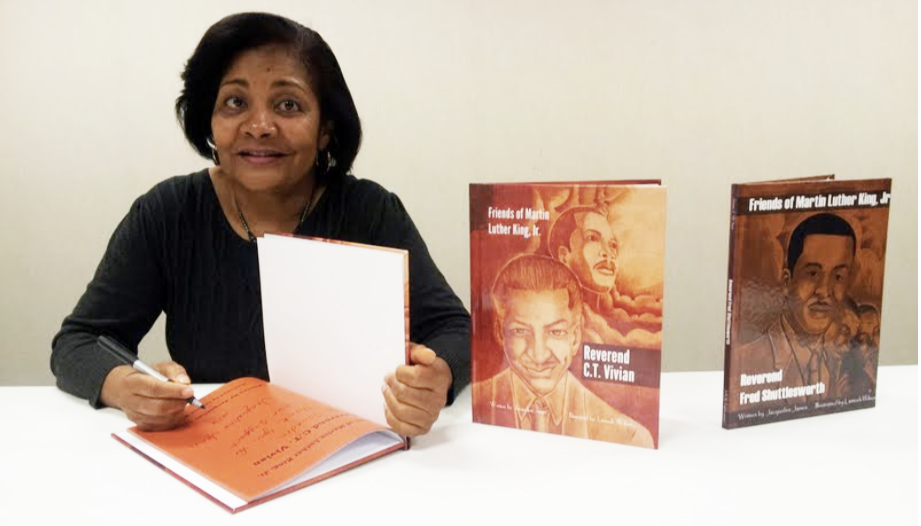 Jacqueline is a retired educator who grew up in Grand Rapids, Michigan and now resides in Atlanta, Georgia.
She attended Michigan State University where she earned a Bachelor's degree in Elementary Education and Master's degrees in both Elementary and Special Education. She also earned a Specialist degree in Library Media Technology from Georgia State University.
She holds an ESOL Endorsement and a Director of Media Centers Leadership Endorsement.
Ms. James is also a National Board Certified Teacher.
She is a member of Greenforest Baptist Church in Decatur, GA where she formerly served as church historian and presently is a teacher in the Christian Education Department.
She has been a presenter at state and national conferences.
She is a published writer in the April 2003 issue of Media Talk.
She has been a volunteer historian and docent at the Herndon Home Museum in Atlanta for more than twenty years.
She is the founder of JAX Publications, an independent publishing company that provides positive and historically accurate books for elementary and middle grade students. These books enhance and supplement the school curricula. The types of books included are biographies, memoirs, as well as other historical non-fiction books with a focus on multi-cultural themes.
Ms. James's many years as an educator and historian enables her to provide study guides and enrichment materials to correlate with the books. Many of the activities included are aligned with the Common Core Standards which have been adopted by forty-six states and the Washington DC schools.
Ms. James enjoys writing, reading, the theatre, Sudoku, and traveling.